"The best of the best startups at the right time"   
Sustainability and Profits: OurCrowd's New FoodTech Fund
Sustainability has become mankind's most important goal. Nowhere is this more crucial than with our food supplies which are dwindling and unable to feed the rapidly growing population. Now is the time for tech to step up and create alternative sources of nourishment without further damaging the fragile ecosystem. The OurCrowd FoodTech Fund is a wide range of cutting-edge technology companies seeking to tackle the challenge of feeding the world's fast-growing population while decarbonizing the global economy. Companies in the fund address new trends in culinary preferences, as well as lifestyle pressures and sustainability demands among the rising cohort of Millennials and Generation Z. Sit down with FoodTech CEOs and business leaders who will reveal how tech is making our food sources more sustainable.
August 18, 2022
Investing in FoodTech: Making Tomorrow's Meals

As climate change reshapes planet Earth literally from the ground up, sustainability has become mankind's most important goal. Nowhere is this more crucial than with our food supplies which are dwindling and unable to feed the rapidly growing population. Now is the time for tech to step up and create alternative sources of nourishment without further damaging the fragile ecosystem. Join us as we host FoodTech CEOs and business leaders who will reveal what you might be consuming at the dinner table in the not-so-distant future.
July 25, 2022
Startup Demo Day

We're pulling back the curtain on early-stage startups with game-changing technologies in AgTech, cybersecurity, metaverse immersion, enterprise software and even cattle herding. CEOs from seven companies backed by Labs/02*, OurCrowd's early-stage fund and incubator, will present their technology and business, its impact on the sector and the value proposition for investors.
7 Participating Companies from our incubator Labs02
(BeeFreeAgro, C2A, CorrActions, Dots, HyperVision, Kaholo, QuantLR)
July 13, 2022
Melissa Drew, IBM, on Digital Transformation

Melissa Drew, Digital Transformation Executive Advisor at IBM, gives a detailed overview of digital transformation as it relates to the airline and logistic indsutries. From changes to the in-flight entertainment systems to 10 new airlines lanuching last year, digital transformation is necessary. Melissa said, "embracing AI technologies…and other emerging technologies, isn't a trend any longer. It's truly what's going to make that airline differentiate from its competitors. And if it doesn't move quickly, or at least start in that direction, then they're going to be falling behind,"
June 30, 2022
Investing in Solutions to the Airline Industry's Jet Lag

The airline industry is in trouble. Flight cancellations are wrecking travel plans for millions as carriers struggle to recover from the coronavirus pandemic, which triggered massive cutbacks in the number of passengers, forcing them to slash their staffing both on the ground and in the air. To make matters worse, many airports and aircraft are mired in decades-old practices and creaking technology. Join us as we host startup CEOs and Melissa Drew from IBM to discuss how technology can improve our jet-lagged transportation networks.
June 30, 2022
Investing in the Metaverse

From producing detailed avatars to creating virtual storefronts, the Metaverse is a computer-generated world where revenue streams are very real. Creative startups are flourishing by building custom-made, virtual worlds for clients. The possibilities are endless. We sat down with CEOs of OurCrowd Metaverse companies and leading industry figures who are changing the reality of retail, entertainment and investing.
June 20, 2022
Avoid the 80/20 Trap: Run a Successful POC!
Are you part of the 80% whose technological POCs fail to succeed commercially? Start-Up Nation Central, in collaboration with OurCrowd, has created a POC Playbook that provides all you need to know to conduct a successful POC with leading multinational corporations, including key guidelines and recommendations based on real-world experience and interviews with both tier-1 companies and startups.
June 13, 2022
Investing in the Circular Economy: From Trash to Cash
As the world struggles with the availability of resources, repurposing is quickly becoming the name of the game. This new, more comprehensive approach to innovation demands that companies reduce, reuse, and recycle – and it's starting to influence the startup ecosystem. Meet the CEOs of cutting-edge OurCrowd startups and business leaders who will pull back the circular curtain to reveal new approaches to renewable energy storage, bio-functional proteins, alternative food supplies and other bold initiatives.
May 23, 2022
Startups Respond to the Ukraine Crisis: Solving the Global Challenges
Startups Respond to the Ukraine Crisis: Solving the Global Challenges
The Russian invasion of Ukraine has created intense suffering and a major humanitarian crisis. It has also disrupted the global supply chain, including delivery of vital food, medical, mineral and energy resources, and led to serious cyber attacks. Nimble startups around the world are applying new technology to address these challenges. Hear top entrepreneurs and experts from Telemedicine, Energy, Health, Food Supply and Cybersecurity
May 2, 2022
Investing in Precision Medicine
The power of advanced medical technology is coming to a doctor's office near you. Instead of prescribing drugs or treatments which are one size fits all, artificial intelligence and other technologies allow doctors to use those that are tailor made for an individual patient.
Join us to take a look under the digital microscope at cost-effective DNA testing, protein identification, advanced disease screening and more with the CEOs and top advisors of three cutting-edge OurCrowd portfolio companies Genopore, OncoHost and Sequentify.
March 28, 2022
Food, Infrastructure, and High-Speed Manufacturing
3D printing, usually associated with small items and models, is growing up. The technology can now produce items up to industrial strength, larger than life size, and even food. Innovative startups are using 3D printing to address major shortages across multiple industries in raw materials, trained manpower and natural resources, and creating stronger, cheaper, more sustainable products.
The event will feature an exclusive first look at a video presentation from Nuseir Yassin ("Nas Daily") about Plantish, the 3D Printing startup revolutionizing food.
Join OurCrowd as we sit down with CEOs, investors and customers to discuss the impact of the transformational technology of 3D printing in very different markets..
March 8, 2022
Investing in the Future of FinTech
The FinTech revolution has brought disruption to banking, insurance and stock exchanges. We believe that the next big opportunities will be with innovative startups who can exploit the huge potential in specialist markets, from migrant workers to fertility finance.
Meet Jerry Yang, Founder of Yahoo! and Founding Partner of AME Cloud Ventures. Hear from Claire Tomkins, the CEO of Future Family, the company fueling the lucrative fertility tech lending market, Guy Kashtan, CEO of Rewire, the neobank addressing the $600B market in migrant worker financial transactions, Daniel Tsiddon of Viola FinTech, a major investor in the emerging market of specialist FinTech platforms, and Michal Geva, Managing Partner & Co-Founder, Triventures.
February 15, 2022
Investing in SpaceTech: Startups that bring sci-fi down to Earth
SpaceTech has gone beyond scientific exploration – and returned to benefit Earth. The massive amount of real-time data being produced by satellites is having a major impact on our planet, helping to save lives, protect significant sites and conserve resources. The industry has doubled in size over the past decade and is expected to grow by a trillion dollars in the next few years.
Join OurCrowd and a group of distinguished experts, including former US National Security Advisor Lieut. Gen. H.R. McMaster and leading space venture investor Mark Boggett, discuss the part SpaceTech will play in the not-so-distant future. 
January 24, 2022
Artificial Intelligence: How Israeli Companies Are Shaping the Future
See this year's Summer Innovation Showcase. Focusing on the brave new world of artificial intelligence (AI). Learn what AI is and how our lives will be affected by AI products. Hear a panel of Israeli companies on the forefront of the AI revolution and learn how their solutions are poised to solve business and societal problems.
July 14, 2021
Top 10 Post-Pandemic Tech Trends
Get invaluable insight into what will be hot, disruptive and investible in startups going forward. A highlight of the annual OurCrowd Global Investor Summit, hear about key technology trends identified by the OurCrowd investment team as well as its global network.  Speakers include:
Andrea Wasserman, Head of Global Commerce, Verizon Media; Richard Stiennon, IT Security Industry Expert, Lecturer & Author; Eran Ben-Shushan, CEO & Co-Founder, leading events platform Bizzabo; Dr. Paul Rothman, Dean of School of Medicine & CEO, Johns Hopkins Medicine; Jon Medved, CEO & Founder of OurCrowd
July 13, 2021
How To Grow a Hectocorn: Zoom Backer Jim Scheinman on His New Investment
Jim Scheinman gave Zoom its name and was its only seed investor. Zoom is now worth $100 billion and Scheinman has seen five of his investments exit as unicorns. He is the Founding Managing Partner at Maven Ventures, the leading seed venture fund for emerging consumer software startups. Scheinman and Jon Medved, CEO of OurCrowd, discuss their new co-investment in Zippin, whose checkout-free technology platform enables retailers to quickly deploy frictionless shopping in their stores, kiosks and fast-casual restaurants. They are joined by Krishna Motukuri, Co-Founder of Zippin. A rare opportunity to hear from three leaders of the digital retail revolution.
June 30, 2021
XTC Israel: Global Startup Competition Regional Finals, Hosted by OurCrowd
OurCrowd hosted this special online event showcasing the breakthrough technologies from 2021's regional representatives.
XTC Challenge provides winning startups with global visibility, the ability to raise capital (combined $440 million raised to date) and network with global corporations, VCs, and partners. Last year's XTC Israel produced two of the winners at the finals in Paris (out of 2,400 entrants from 87 countries). XTC Israel is presented in partnership with Pitango, Entrée Capital, BGV, Samsung, and Hyundai.
May 4, 2021
Bill Gross on Industry 4.0 and Investing in Launchpad.build
Bill Gross's Idealab, founded in 1996, is the world's longest-running technology incubator and has created more than 150 companies. In conversation with Jon Medved, CEO of OurCrowd, Gross discussed his latest investment in Launchpad, described as "the Tesla of manufacturing." Launchpad uses artificial intelligence to automate and accelerate the manufacturing process, sharply reducing the time from blueprint to production and slashing costs. The technology "will completely disrupt high-speed time-to-market manufacturing forever," Gross says.
For more information about Launchpad.build visit: https://www.launchpad.build/
May 11, 2021
The Future of Medicine
Moshe Shoham, Israel's leading expert in MedTech robotics and one of the world's leading startup entrepreneurs, spoke about this revolutionary field representing a major opportunity to venture investors. Prof. Shoham's Technion lab produced Mazor Robotics Ltd. ($1.6 billion acquisition), Microbot Medical (major IPO in 2016), Diagnostic Robotics ($26 million raised) and currently Tamar Robotics, an OurCrowd portfolio company. Tamar is developing the first surgical robotic system that can perform highly accurate, minimally invasive, brain mass removal surgery, and has already proven successful in lab studies. 
April 12, 2021
The Next Big Thing in AI: Spatial Computing
These purveyors of advanced startup tech technology reveal how they're both driving and leveraging the spatial computing revolution, which will bring human-machine and machine-machine interactions to new levels of efficiency in industry, health care, transportation and the home.
ByondXR, Edgybees, TetaVi and Mikio Iwamura, Director, Wireless Research Group, NTT Docomo.
Moderated by Liat Sverdlov, Investment Partner, OurCrowd.
February 17 & 18, 2021
Innovation in 2021: The View from Israel and Japan
Over the past decade the number of Israel/Japan investment deals has increased three-fold. OurCrowd together with the Israeli top law firm Herzog, Fox Neeman will delve into what is behind this staggering growth and how we can ensure it continues to the benefit of both countries. Leading professionals working in the regions will join a panel to present the current tech landscapes in both Israel and Japan, discuss key factors for successful collaboration in the business world and what we can expect for the future of innovation in Israel and Japan.
January 20, 2021
The $37B Market About to be Disrupted by Fertility Tech
A key pandemic-driven trend is the acceleration of the fertility tech sector, including egg freezing and IVF, with a market predicted to be worth $37+ billion dollars in less than 10 years. Hear from Claire Tomkins, PhD, founder and CEO of Future Family, on the category potential and her startup's disruptive solution. Future Family is the first company to bring together financing, technology, and concierge care in an easy-to-use online platform. With established revenues and growth, Future Family is a leading example of next-gen FinTech, which will provide customized solutions for specific verticals.
March 10, 2021
UAE Tech Investment Landscape: Introduction for the Israeli Ecosystem
OurCrowd, Israel's most active startup investment platform, partnered with Emirates Angels, the leading Emirati angel investment association, to provide a unique overview of the current trends, players, and opportunities related to the tech landscape in the United Arab Emirates. Senior United Arab Emirates investment professionals, top entrepreneurs and government officials, discuss the UAE innovation ecosystem and its key sectors. 
October 13, 2020
Israel Tech Investment Landscape : Introduction to the UAE Investor 
OurCrowd provides a unique overview of the current trends, players, and opportunities related to tech investment in Israel. Participants will hear from OurCrowd investing professionals experienced in doing business with the UAE, as well as from top startup entrepreneurs, about the Israeli innovation ecosystem, key sectors such as AI, Healthcare, and Mobility, and practical investment insights. Co-Hosted by Emirates Angels www.emiratesangels.org
September 22, 2020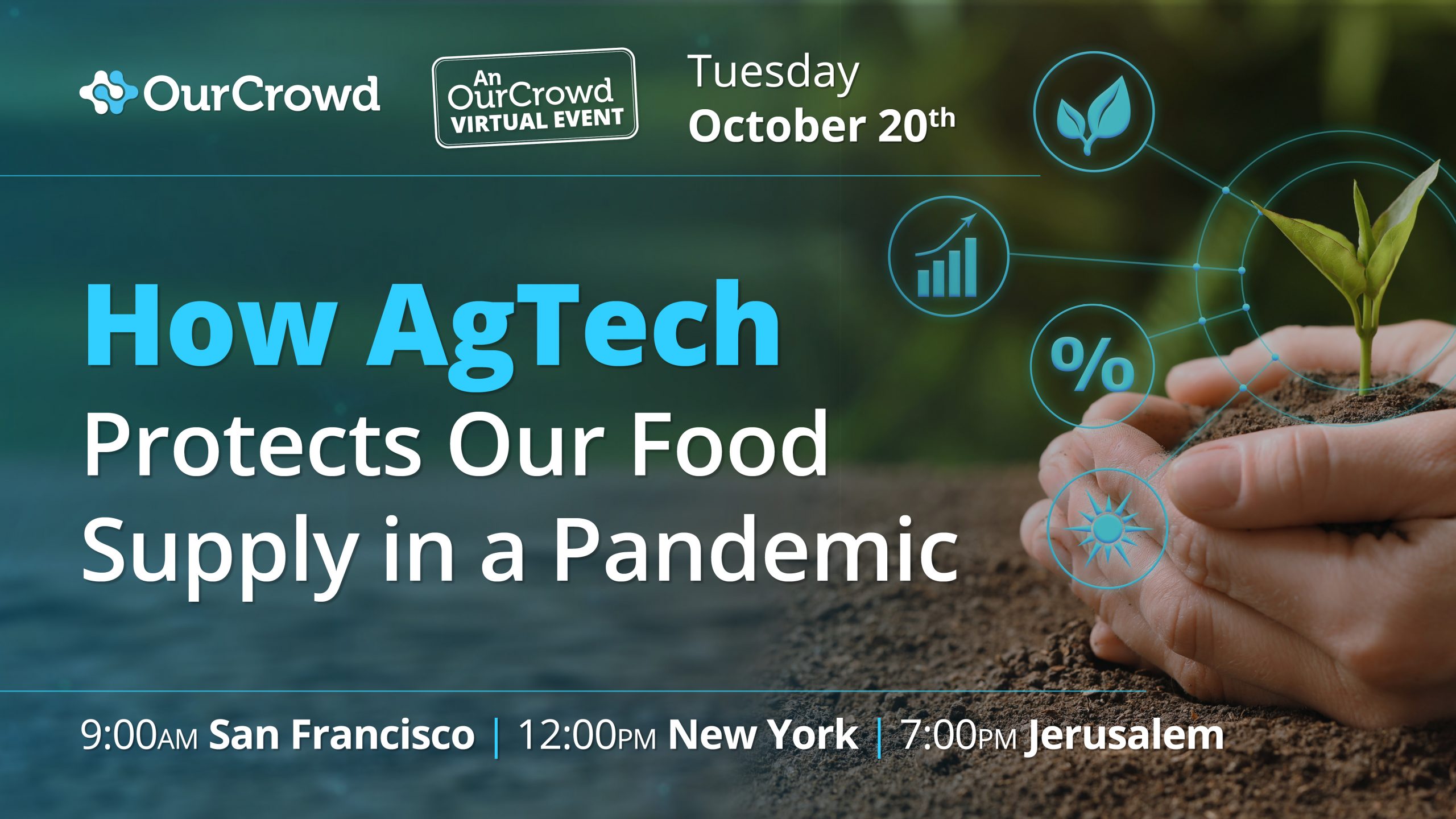 How AgTech Protects Our Food Supply in a Pandemic
The coronavirus pandemic has further weakened a global food supply chain already under strain from increasing population and climate change. Startup technology is increasing farmers' yields, easing distribution and enhancing irrigation, creating unprecedented opportunities for investment in fast-growing AgTech companies. Hear directly from the startup entrepreneurs at the forefront- Consumer Physics, CropX, Tevel and Trellis.ai.
This webinar is for accredited investors only. To access this webinar and more join ourcrowd.com
If you are already an OurCrowd investor contact your OurCrowd Rep for access to this webinar.
October 20, 2020
Investing in Disruptive Food Tech Companies
A live discussion featuring two leading industry experts on investing in breakout Food Tech companies, and the impact of COVID-19 on the food sector.
August 18, 2020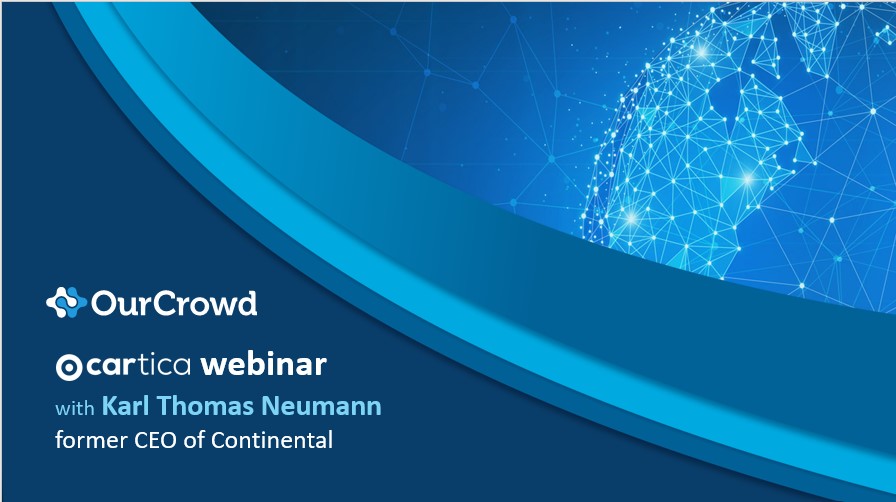 Cartica webinar with Karl Thomas Neumann, former CEO of Continental
An exclusive webinar with Karl Thomas Neumann, whom together with Igal Raichelgauz, Cartica's CEO, will be elaborating on the prospects of Cartica.
This webinar is for accredited investors only. To access this webinar and more join ourcrowd.com
If you are already an OurCrowd investor, you can find the webinar here.
August 17, 2020
AI to the Rescue : How Startup Technology is Reinventing the Hospital 
Top MedTech entrepreneurs, industry leaders, and investors explore the revolution in healthcare services being driven by artificial intelligence. Featuring exclusive insights and actionable ideas from speakers including the CEO of Sight Diagnostics, on the heels of its $71m funding news, and the Israel head of Koch Disruptive Technologies, a subsidiary of the $110 billion Koch Industries, to discuss their investment in Sight Diagnostics, as well as the Chief Innovation Officer of Sheba Medical Center, an acknowledged world leader in MedTech.
September 9, 2020
Digital Health – What Will Stay & What Will Get Left Behind?
OurCowd's senior proffessionals and digital health portfolio presents what will remain two years from today after the rapid acceleration of digital health technologies we've experienced through COVID-19.
July 9, 2020
The Post-COVID Corporation: How Pandemic-Driven Innovation Will Change Everything
OurCrowd analysts discussing how COVID-19 is shaping new tech for healthcare, air travel, retail, financial services,
energy and supply chain, to illustrate why corporate investing in innovation is critical at times of crisis.
Hear from top OurCrowd analysts and Freightos to see how different sectors are adapting to a post pandemic world. 
May 27, 2020
Protecting Your Data Encryption in the Age of Quantum Computing
Hear a live discussion on quantum technology and how it will impact our future with Dr. Tal David, PhD, Head, Israel National Quantum Initiative and Professor Hagai Eisenberg, QuantLR CSO.
August 12, 2020
The Future of Aviation: Innovation in a Post-Pandemic World
Biosecurity, robotic ticket counters, and plane sterilization are just some of the new prospects facing air passengers and businesses alike. Experts from OurCrowd and leading startups explore the challenges and opportunities, how the industry will change, and how breakthrough technologies will help it get to the destination.
With insights from Juganu, VocalZoom and SeeTrue, this is an essential webinar for anyone interested in the state of the art and what's next.
May 20, 2020
Cybersecurity & Insecurity: The New World of COVID-19
As organizations increasingly move their business processes online, threats to data and privacy have exploded. Experts from some of the leading cybersecurity companies in the world explore the challenges for organizations protecting themselves and their clients from attack.
With insights from Sixgill, Morphisec, Perception Point, ITsMine, and Hubsecurity, this is an essential webinar for CISOs and anyone interested in the state of the art and what's next.
May 14, 2020
IoT Cybersecurtiy & Financial Crime: The New World of COVID-19
With the tremendous shift of work, play, and essential business processes online, threats to data and privacy have exploded.
Experts from some of the leading cybersecurity companies in the world explore the challenges for protecting organizations and individuals alike from attack.
With insights from CyberX, Nanolock, IXDen, and ThetaRay, this is an essential webinar for CISOs and anyone interested in the state of the art and what's next.
May 21, 2020
Israel's Response to Covid-19: Government, Healthcare, and Technology on the Frontlines
Often looked to for leadership in such areas as cybersecurity, defence, and chip design, Israel's response to the coronavirus has brought it attention from around the world. Early and strong measures by the state and innovative application of startup technologies seem to be holding the pandemic at bay.
In cooperation with the Israel Ministry of Economy, this important webinar features government representatives, VCs and medtech entrepreneurs showing how innovation is tackling the biggest global crisis in almost a century.
April 22, 2020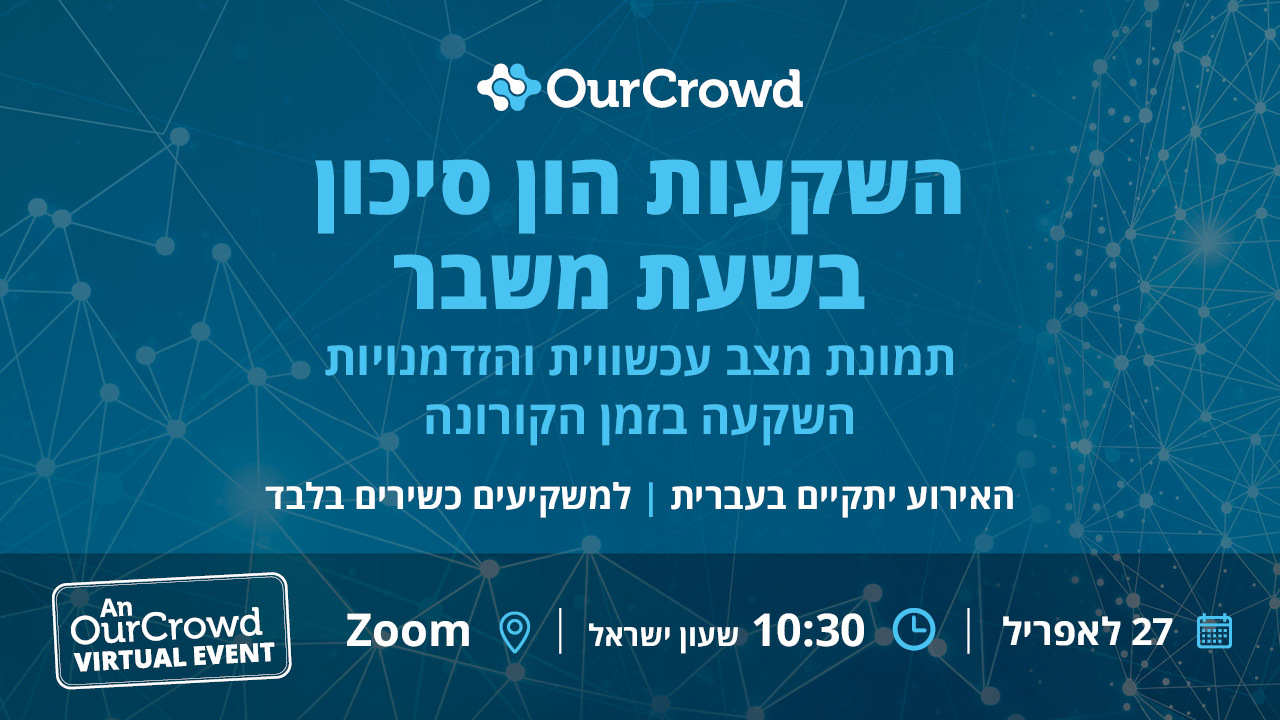 השקעות הון הסיכון בשעת משבר: תמונת מצב עכשווית והזדמנויות השקעה בזמן הקורונה
קרן הון הסיכון הגדולה והפעילה ביותר בישראל מזמינה אותך להכיר לעומק את עולם ההזדמנויות והאתגרים שמציבה בפנינו מגפת הקורונה.
צוות מומחים מתוך ההנהלה הבכירה של OurCrowd יספקו מבט מבפנים על עולם ההון סיכון, שוק ההון וההשקעות בסטארט-אפים שמפתחים מענה טכנולוגי למגפה באמצעות ייצור חיסונים ותרופות, התרחקות חברתית, עבודה מהבית ועוד. כמובן שיהיה זמן לשאול שאלות ולהתייעץ.
This webinar is for accredited investors only. To access this webinar and more join ourcrowd.com
If you are already an OurCrowd investor please contact your investor rep to watch this webinar in Hebrew.
April 27, 2020
Learn more about startups on the coronavirus frontlines – and how to get involved.
Finding the Tube Among the Tumultuous Waves: Navigating Startup Investments Through the Corona Crisis
The Impact of Coronovirus on Startups & OurCrowd's Next Steps
With Jon Medved, Founder & CEO of OurCrowd, along with several OurCrowd executives. The team discussed medical updates, implications on the market, portfolio company progress and more.
March 19, 2020