On Demand   
Watch past OurCrowd webinars and events
Cybersecurity & Insecurity: The New World of COVID-19
As organizations increasingly move their business processes online, threats to data and privacy have exploded. Experts from some of the leading cybersecurity companies in the world explore the challenges for organizations protecting themselves and their clients from attack.
With insights from Sixgill, Morphisec, Perception Point, ITsMine, and Hubsecurity, this is an essential webinar for CISOs and anyone interested in the state of the art and what's next.
May 14, 2020
השקעות הון הסיכון בשעת משבר: תמונת מצב עכשווית והזדמנויות השקעה בזמן הקורונה
קרן הון הסיכון הגדולה והפעילה ביותר בישראל מזמינה אותך להכיר לעומק את עולם ההזדמנויות והאתגרים שמציבה בפנינו מגפת הקורונה.
צוות מומחים מתוך ההנהלה הבכירה של OurCrowd יספקו מבט מבפנים על עולם ההון סיכון, שוק ההון וההשקעות בסטארט-אפים שמפתחים מענה טכנולוגי למגפה באמצעות ייצור חיסונים ותרופות, התרחקות חברתית, עבודה מהבית ועוד. כמובן שיהיה זמן לשאול שאלות ולהתייעץ.
This webinar is for accredited investors only. Please contact your investor rep to watch this webinar in Hebrew.
April 27, 2020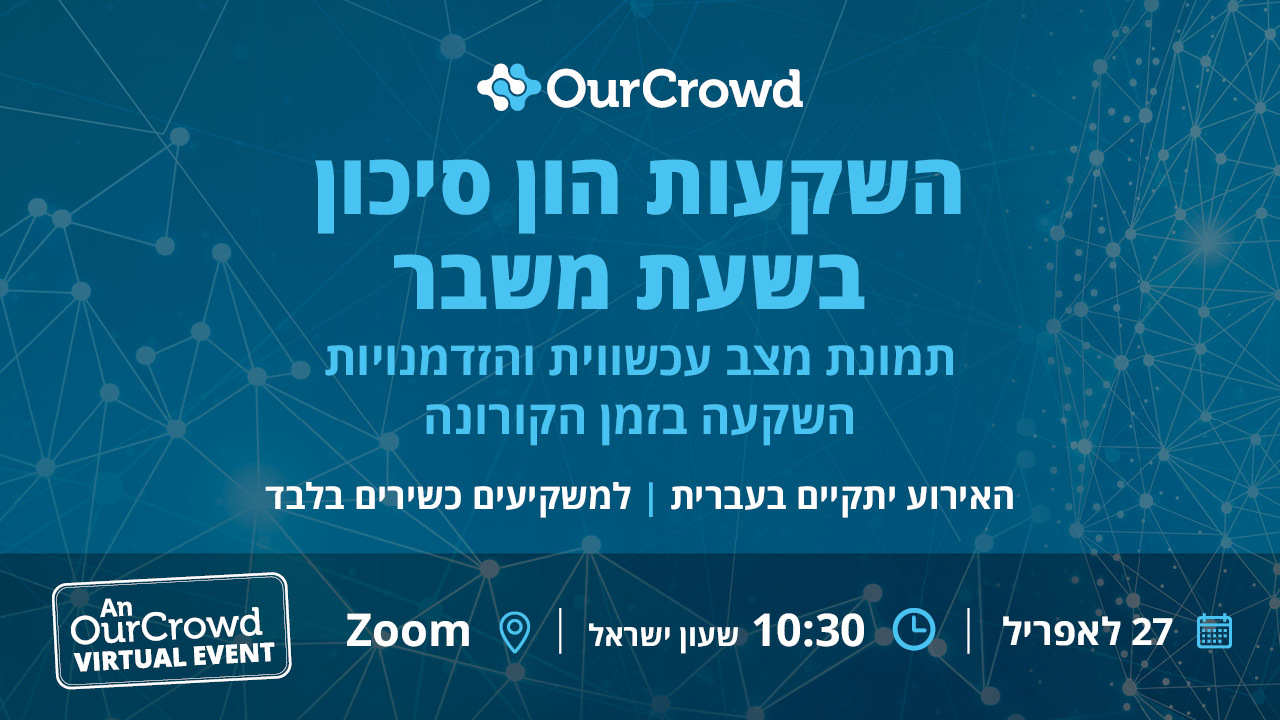 Israel's Response to Covid-19: Government, Healthcare, and Technology on the Frontlines
Often looked to for leadership in such areas as cybersecurity, defense, and chip design, Israel's response to the coronavirus has brought it attention from around the world. Early and strong measures by the state and innovative application of startup technologies seem to be holding the pandemic at bay.
In cooperation with the Israel Ministry of Economy, this important webinar features government representatives, VCs and medtech entrepreneurs showing how innovation is tackling the biggest global crisis in almost a century.
April 22, 2020
Finding the Tube Among the Tumultuous Waves: Navigating Startup Investments Through the Corona Crisis
The Impact of Coronovirus on Startups & OurCrowd's Next Steps
With Jon Medved, Founder & CEO of OurCrowd, along with several OurCrowd executives. The team discussed medical updates, implications on the market, portfolio company progress and more.
March 19, 2020
Learn more about startups on the coronavirus frontlines – and how to get involved.