"Excellent content… and the quality of the attendess is exemplary"   
The Future of Medicine
Moshe Shoham, Israel's leading expert in MedTech robotics and one of the world's leading startup entrepreneurs, spoke about this revolutionary field representing a major opportunity to venture investors. Prof. Shoham's Technion lab produced Mazor Robotics Ltd. ($1.6 billion acquisition), Microbot Medical (major IPO in 2016), Diagnostic Robotics ($26 million raised) and currently Tamar Robotics, an OurCrowd portfolio company. Tamar is developing the first surgical robotic system that can perform highly accurate, minimally invasive, brain mass removal surgery, and has already proven successful in lab studies. In this interactive virtual discussion, Prof. Shoham provides insights into the company, the field, and the journey to successful entrepreneurship.
Co-Moderators:
David Shore- Vice President, IR OurCrowd Canada; Elysa Greisman- National Executive Director, Technion Canada ; Professor Moshe Shoham- Tamara and Harry Handelsman Academic Chair in Mechanical Engineering , Founder and Director – Tamar Robotics
Hosted by: Steve Bramson- Board Member, Technion Canada & Doron Dekel- Board Member and Alumni, Technion Canada
April 12th, 2021
The $37B Market About to be Disrupted by Fertility Tech
A key pandemic-driven trend is the acceleration of the fertility tech sector, including egg freezing and IVF, with a market predicted to be worth $37+ billion dollars in less than 10 years. Hear from Claire Tomkins, PhD, founder and CEO of Future Family, on the category potential and her startup's disruptive solution. Future Family is the first company to bring together financing, technology, and concierge care in an easy-to-use online platform. With established revenues and growth, Future Family is a leading example of next-gen FinTech, which will provide customized solutions for specific verticals. Claire is a startup veteran who was formerly an Investment Bank advisor and director of Richard Branson's Carbon War Room accelerator. Also hear from key players in MedTech and venture capital on the potential to change lives as well as the investment opportunity.
Speakers: Claire Tomkins, PhD- CEO Future Family Dr. Angelia N. Beltsos – Chief Medical Officer and CEO Vios Fertility Institute Ashley Gillen Binder- Future Family Client Richard Norman, Managing Director Co-Head, Funds; Moderator
10th March, 2021
The Next Big Thing in AI: Spatial Computing
The ongoing convergence of the physical and digital worlds is producing spectacular applications and investment opportunities. Hear from some of the most innovative leaders in this space:
ByondXR: Noam Levavi, CEO. ByondXR gives brands in the $4T global online retail market an edge by enabling them to create engaging, interactive stores via its immersive virtual commerce platform.
Edgybees: Adam Kaplan, CEO. Edgybees develops AR software for drones and other high-speed moving platforms, with applications in first response, media, gaming, and more.
TetaVi: Gilad Talmon, CEO. TetaVi creates affordable volumetric video-capture technology creates high-fidelity holograms on any device, turning any smartphone into a portable immersive video studio.
Mikio Iwamura, Director, Wireless Research Group, NTT Docomo (Docomo's XR is based on TetaVi tech, and Mikio championed the investment. NTT Docomo Inc. is the predominant mobile phone operator in Japan).
These purveyors of advanced startup tech technology reveal how they're both driving and leveraging the spatial computing revolution, which will bring human-machine and machine-machine interactions to new levels of efficiency in industry, health care, transportation and the home.
Moderated by Liat Sverdlov, Investment Partner, OurCrowd.
February 17th & 18th, 2021
Innovation in 2021: The View from Israel and Japan
Over the past decade the number of Israel/Japan investment deals has increased three-fold. OurCrowd together with the Israeli top law firm Herzog, Fox Neeman will delve into what is behind this staggering growth and how we can ensure it continues to the benefit of both countries. Leading professionals working in the regions will join a panel to present the current tech landscapes in both Israel and Japan, discuss key factors for successful collaboration in the business world and what we can expect for the future of innovation in Israel and Japan.
January 20th, 2021
How AgTech Protects Our Food Supply in a Pandemic
The coronavirus pandemic has further weakened a global food supply chain already under strain from increasing population and climate change. Startup technology is increasing farmers' yields, easing distribution and enhancing irrigation, creating unprecedented opportunities for investment in fast-growing AgTech companies.
Hear directly from the startup entrepreneurs at the forefront:
Assaf Carmi, CEO, Consumer Physics, whose optical spectrometer is increasing crop yields and quality

Tomer Tzach, CEO, CropX, innovating soil sensors that enhance irrigation and fertilization

Yaniv Manor, Founder & CEO, Tevel, revolutionizing orchard harvest with airborne robotics

Ilay Englard, Founder & CEO, Trellis.ai, optimizing supply chain logistics through cognitive learning
This webinar is for accredited investors only. To access this webinar and more join ourcrowd.com
If you are already an OurCrowd investor contact your OurCrowd Rep for access to this webinar.
October 20th, 2020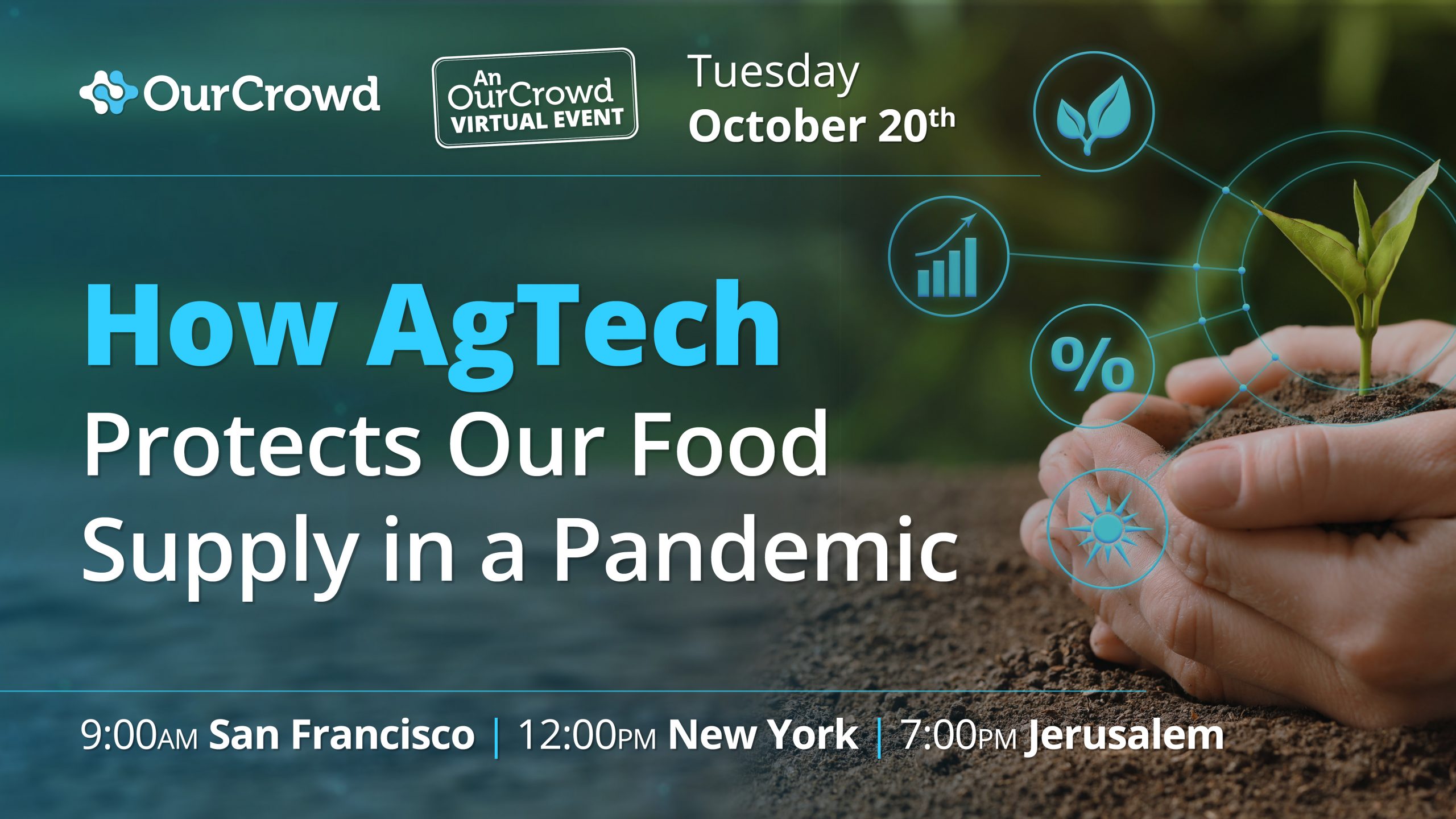 UAE Tech Investment Landscape: Introduction for the Israeli Ecosystem
Senior United Arab Emirates investment professionals, top entrepreneurs and government officials, discuss the UAE innovation ecosystem and its key sectors. Speakers include:
His Excellency Dr. Tariq Bin Hendi, Director General, Abu Dhabi Investment Office

Abdullah Saeed Juma Al Naboodah, Chairman, Naboodah Investment Company

Masaood Al Masaood, Chairman, Emirates Angels Investors Association

Dhaher bin Dharer Al Mheiri, CEO, Abu Dhabi Global Market (ADGM)

Stephen Barnett, Executive Director- Business Development, ADGM

Dr. Sabah al-Binali, CEO, UAE-based Universal Strategy
OurCrowd, Israel's most active startup investment platform, partnered with Emirates Angels, the leading Emirati angel investment association, to provide a unique overview of the current trends, players, and opportunities related to the tech landscape in the United Arab Emirates.
October 13th, 2020
Israel Tech Investment Landscape : Introduction to the UAE Investor 
OurCrowd provides a unique overview of the current trends, players, and opportunities related to tech investment in Israel. Participants will hear from OurCrowd investing professionals experienced in doing business with the UAE, as well as from top startup entrepreneurs, about the Israeli innovation ecosystem, key sectors such as AI, Healthcare, and Mobility, and practical investment insights.
Speakers include: JON MEDVED, CEO, OurCrowd; ALEC ELLISON, Chairman, OurCrowd US, former Vice Chairman, Jefferies; KIRA RADINSKY, Chairwoman & CTO, Diagnostic Robotics, Former Chief Scientist, eBay; NEIL ACKERMAN, Head, Advanced Technologies, Global Supply Chain, Johnson and Johnson. Including a video greeting from MASAOOD AL MASAOOD, Chairman of the Board, Emirates Angels
Co-Hosted by Emirates Angels www.emiratesangels.org
September 22nd, 2020
AI to the Rescue : How Startup Technology is Reinventing the Hospital 
Top MedTech entrepreneurs, industry leaders, and investors explore the revolution in healthcare services being driven by artificial intelligence. Hosted by OurCrowd CEO Jon Medved, the webinar featured exclusive insights and actionable ideas from speakers including the CEO of Sight Diagnostics, on the heels of its $71m funding news, and the Israel head of Koch Disruptive Technologies, a subsidiary of the $110 billion Koch Industries, to discuss their investment in Sight Diagnostics – as well as the Chief Innovation Officer of Sheba Medical Center, an acknowledged world leader in MedTech.
September 9th, 2020
Investing in Disruptive Food Tech Companies
A live discussion featuring two leading industry experts on investing in breakout Food Tech companies, and the impact of COVID-19 on the food sector.
August 18th, 2020
Cartica webinar with Karl Thomas Neumann, former CEO of Continental
An exclusive webinar with Karl Thomas Neumann, whom together with Igal Raichelgauz, Cartica's CEO, will be elaborating on the prospects of Cartica.
This webinar is for accredited investors only. To access this webinar and more join ourcrowd.com
If you are already an OurCrowd investor, you can find the webinar here.
August 17th, 2020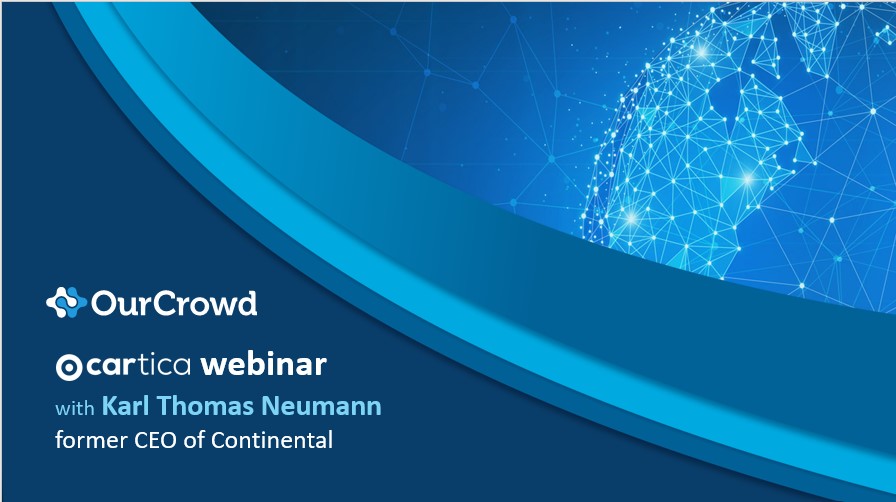 Protecting Your Data Encryption in the Age of Quantum Computing
Hear a live discussion on quantum technology and how it will impact our future with Dr. Tal David, PhD, Head, Israel National Quantum Initiative and Professor Hagai Eisenberg, QuantLR CSO.
August 12th, 2020
Digital Health – What Will Stay & What Will Get Left Behind?
OurCowd's senior proffessionals and digital health portfolio presents what will remain two years from today after the rapid acceleration of digital health technologies we've experienced through COVID-19.
July 9th, 2020
The Post-COVID Corporation: How Pandemic-Driven Innovation Will Change Everything
OurCrowd analysts discussing how COVID-19 is shaping new tech for healthcare, air travel, retail, financial services,
energy and supply chain, to illustrate why corporate investing in innovation is critical at times of crisis.
Hear from top OurCrowd analysts and Freightos to see how different sectors are adapting to a post pandemic world. 
May 27, 2020
IoT Cybersecurtiy & Financial Crime: The New World of COVID-19
With the tremendous shift of work, play, and essential business processes online, threats to data and privacy have exploded.
Experts from some of the leading cybersecurity companies in the world explore the challenges for protecting organizations and individuals alike from attack.
With insights from CyberX, Nanolock, IXDen, and ThetaRay, this is an essential webinar for CISOs and anyone interested in the state of the art and what's next.
May 21, 2020
The Future of Aviation: Innovation in a Post-Pandemic World
Biosecurity, robotic ticket counters, and plane sterilization are just some of the new prospects facing air passengers and businesses alike. Experts from OurCrowd and leading startups explore the challenges and opportunities, how the industry will change, and how breakthrough technologies will help it get to the destination.
With insights from Juganu, VocalZoom and SeeTrue, this is an essential webinar for anyone interested in the state of the art and what's next.
May 20, 2020
Cybersecurity & Insecurity: The New World of COVID-19
As organizations increasingly move their business processes online, threats to data and privacy have exploded. Experts from some of the leading cybersecurity companies in the world explore the challenges for organizations protecting themselves and their clients from attack.
With insights from Sixgill, Morphisec, Perception Point, ITsMine, and Hubsecurity, this is an essential webinar for CISOs and anyone interested in the state of the art and what's next.
May 14, 2020
השקעות הון הסיכון בשעת משבר: תמונת מצב עכשווית והזדמנויות השקעה בזמן הקורונה
קרן הון הסיכון הגדולה והפעילה ביותר בישראל מזמינה אותך להכיר לעומק את עולם ההזדמנויות והאתגרים שמציבה בפנינו מגפת הקורונה.
צוות מומחים מתוך ההנהלה הבכירה של OurCrowd יספקו מבט מבפנים על עולם ההון סיכון, שוק ההון וההשקעות בסטארט-אפים שמפתחים מענה טכנולוגי למגפה באמצעות ייצור חיסונים ותרופות, התרחקות חברתית, עבודה מהבית ועוד. כמובן שיהיה זמן לשאול שאלות ולהתייעץ.
This webinar is for accredited investors only. To access this webinar and more join ourcrowd.com
If you are already an OurCrowd investor please contact your investor rep to watch this webinar in Hebrew.
April 27, 2020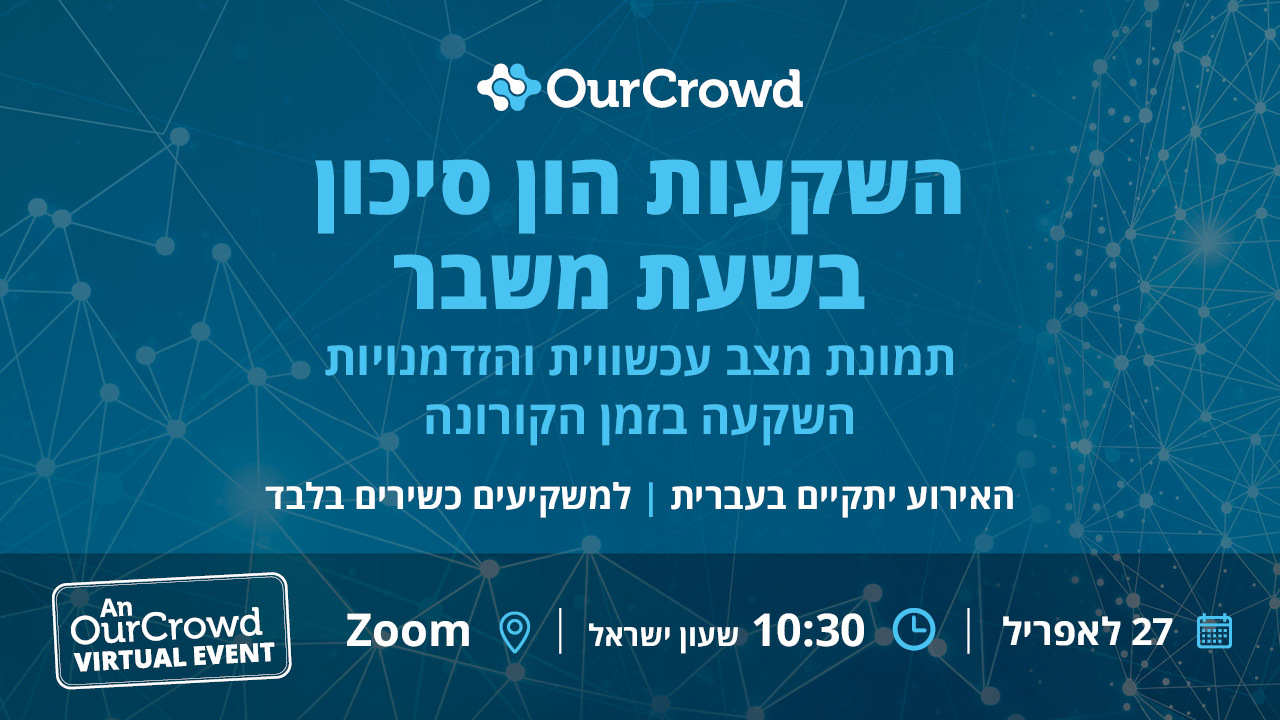 Israel's Response to Covid-19: Government, Healthcare, and Technology on the Frontlines
Often looked to for leadership in such areas as cybersecurity, defense, and chip design, Israel's response to the coronavirus has brought it attention from around the world. Early and strong measures by the state and innovative application of startup technologies seem to be holding the pandemic at bay.
In cooperation with the Israel Ministry of Economy, this important webinar features government representatives, VCs and medtech entrepreneurs showing how innovation is tackling the biggest global crisis in almost a century.
April 22, 2020
Finding the Tube Among the Tumultuous Waves: Navigating Startup Investments Through the Corona Crisis
The Impact of Coronovirus on Startups & OurCrowd's Next Steps
With Jon Medved, Founder & CEO of OurCrowd, along with several OurCrowd executives. The team discussed medical updates, implications on the market, portfolio company progress and more.
March 19, 2020
Learn more about startups on the coronavirus frontlines – and how to get involved.